Judie Cain
Oil Painter/Instructor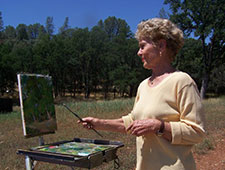 "With a reverence for life, a pride in America, I wish for my works to convey only the joyful side of my life's experiences. The other types of media that we are bombarded with in our daily lives can drain away our joy. For me, art work should remind us of hope and happiness, just as the gaiety of children's laughter can evoke a smile and heart-warming memories."
A Colorist's Impressions of Life
Judie Cain works her magic with practiced skill primarily in oil paints. Several of her works are in print, Giclee and on home products. Working from live models, on location, and/or from photo references from her travels, she strives to capture the light, liveliness, and the mood of the moment through quick strokes of vibrant colors, using brush and/or painting knife. At home with a variety of subjects, she finds excitement in even the most ordinary things such as the nostalgia of a Victorian porch, a bouquet of her treasured roses and scenes from her gardens, expansive landscapes, animals, or children on the beach.
To Cain, painting is something you have in your heart. She sees herself as an "Impressionistic Colorist" painter but others have told her that she has an "Expressionistic" flair. "It's whatever attracts me at the time; I express my feelings, so I'm a little of both," says Ms. Cain. "If the light hits a certain way, I think "if I could only capture that." It's humbling trying to capture what Mother Nature has perfected," she acknowledges. "It seemed that a lot of the fundamentals weren't being taught any longer so I designed the workshops to address those needs."
A native of Burlingame, CA, Judie Cain studied at California College of Arts & Crafts, in Oakland, CA after high school. "I felt very intimidated by the talent there at the time." (Her early art attempts went from doodles on scratch pads and work in modeling clay to decorating for school dances and events.) She has taken inspiration from many great artists, particularly John Singer Sargent's memorable portraits, Joaquin Sorolla's magnificent renderings of people and animals at ocean-side, as well as Monet's ability to capture atmosphere.